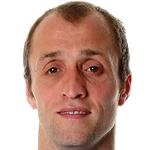 The Georgian experimented forward, "Iashka", will continue his career in Inter Baku.
Aleksandre Iashvili finished a long duel about his possible end of career and signed a contract for a season with the Azeri Inter Baku.
Well known as "Iashka", who has been a very notable and famous player of Georgia in the last 15 years, decided to join the project of Kakhaber Tskhadadze, coach of the Azeri club, which wants to make history and qualify to the Europe League group stage.
The 35 years old Georgian forward began his career in Dinamo Tbilisi in 1993 and in four campaigns managed to score 84 goals in 89 official matches.  This amazing rage attracted the attention of many foreign teams, finally in 1997 he was loaned to VfB Lübeck and impressed German football media. The same year he signed a contract with SC Freiburg and stayed there for 10 years, becoming and historical and key player of the team.
Iashvili played 255 official matches with Freiburg and scored 51 important goals. In 2007 he was transferred to Karlsruher SC and was key player of the team until 2012. There, he played 141 official matches and scored 24 goals.
The last season wasn't huge for him, during 2012-2013 he was part of VfL Bochum but couldn't became the idol he used to be in every team he played. In 28 matches he couldn't score a single goal and at the end of the season strong rumors about Iashvili finishing his career came over.
But "Iashka" himself finished with the gadget after signing a contract with the Azeri club.
The Georgian forward was international since 1998, he played 67 matches and scored 15 goals, leaving his name in the list of the most important players of the National Team.